Engineered for precise handling, superior performance, and aerodynamic prowess, the CJ3 features a new, wider-span, natural-laminar-flow wing design as well as a roomier cabin, longer range, greater speed, faster climb, and optimized fuel efficiency. Operating this single-pilot certified lightweight jet is so intuitive, it has pilots and passengers alike falling, or flying, in love with private air travel anew. Not all jets are distinguished as "Best of the Best," but the CJ3 is. The Robb Report editors selected the Cessna Citation CJ3 as "Best of the Best Business Aircraft Light."
Total Time Airframe (3/01/17): 3341.8 hours/2139 Cycles
 Total Time Engines (3/01/17): 3341.8 hours/2139 Cycles – 5000 Hour TBO
Enrolled TapAdvantage Blue Engine Program, No Deferrals
Enrolled on ProTech Inspection Program
ProParts and Cescom
Aircell ATG 2000 Gogo System with WiFi
416 Knot Cruise, 1875 Nautical Mile Range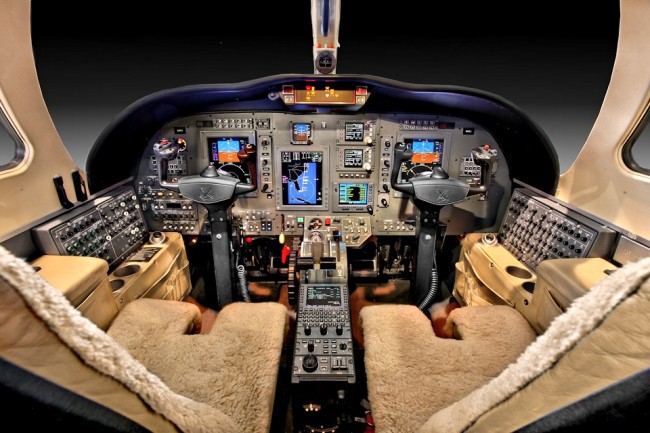 Avionics
The most pilot-focused flight deck in the air today is in the cockpit of the Citation CJ3, powered by the Collins Pro Line 21. The cockpit features an integrated flight director/autopilot and EFIS system that puts many of the latest advances in jet avionics at the pilot's command. The ergonomic cockpit design was inspired by extensive research in human factors engineering. Its specific purpose is to reduce pilot workload and minimize distractions.
3 Screen Collins Proline 21 EFIS
Dual Collins Nav/Com/DME
Collins FMS-3000 FMS #1
Garmin GPS-500 FMS #2
FA2100 Cockpit Voice Recorder
JAA FA2100 Flight Data Recorder
Honeywell Mark VIII EGPWS
TTR-4000 TCAS II version 7.1
Collins ADF
Electronic Charts: Jeppesen
Broadcast Weather – XM
Voice Annunciator
Dual TDR-94D Mode S Diversity Transponders w/Enhanced Surveillance
Collins WXR-800 Weather Radar
Artex C406-N Three Frequency ELT w/FMS Interface
Additional Features 
Safe Flight Angle-of Attack Indexer
Ground Communications Dispatch Switch
Aircell ATG 2000 Gogo System with WiFi
Steep Approach Option
Tail Logo Lights
Locking Fuel Caps
Crew Seat Sheepskin Covers
Exterior Description
The new wing design innovates conventional wing design with a precise, computer-sculpted airfoil that maintains an uninterrupted flow of air across a greater portion of its surface, producing more lift with less drag.
Interior Description
Refurbished 2015.  The CJ3 provides adjustable seating for six in a center-club arrangement around two executive foldout tables.  Within reach of each passenger are seat-side power.  Adjustable in-cabin LED lighting supplements the natural light provided by 14 triple-paned windows.  Enjoy in-flight entertainment with the standard 110-volt power supply.
A five-inch dropped aisle, extending from the cockpit divider through the lavatory, yields a 57-inch-high cabin. The cabin is approximately 58 inches wide and 15 feet, 8 inches long — plenty of cabin space with multiple seating configurations.  The CJ3's private aft lavatory is equipped with a belted flushing toilet and sliding privacy doors.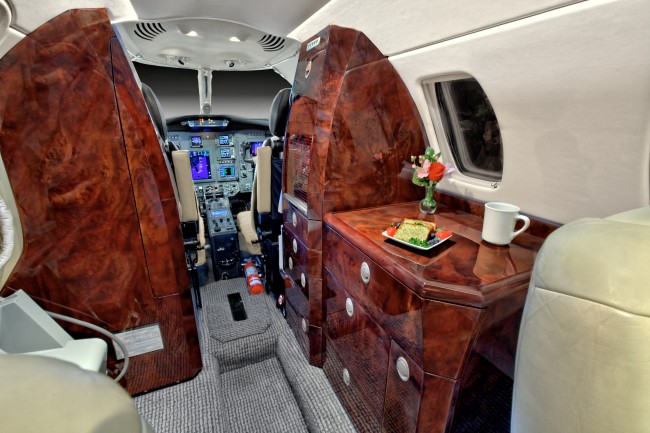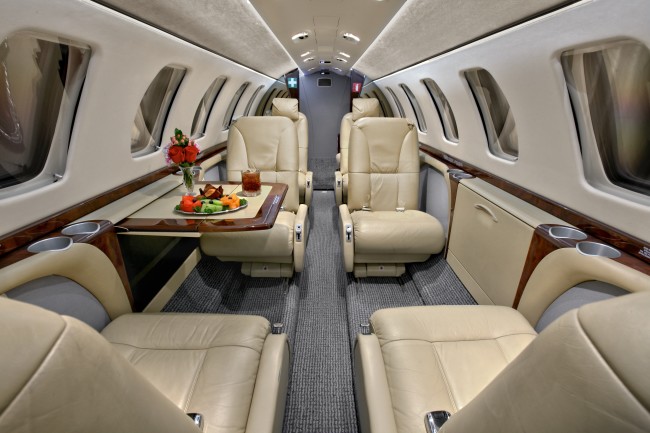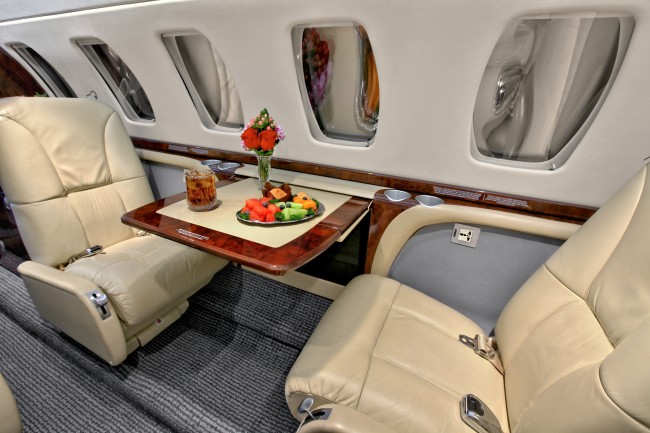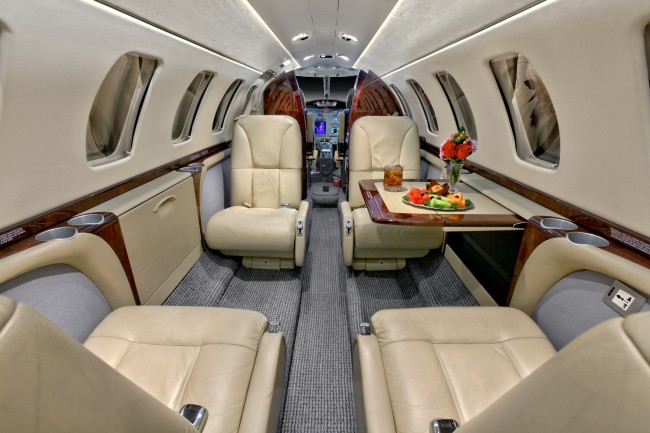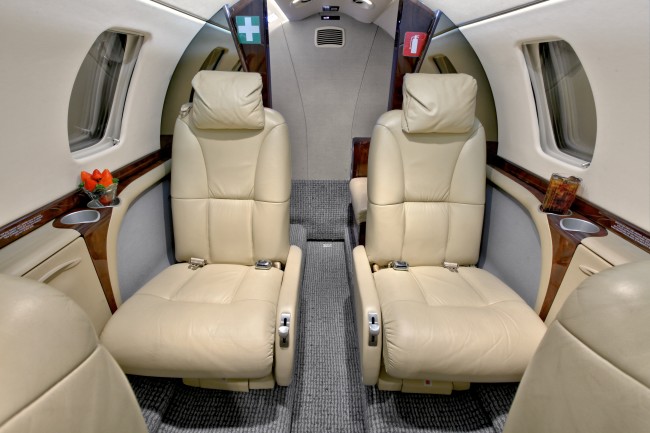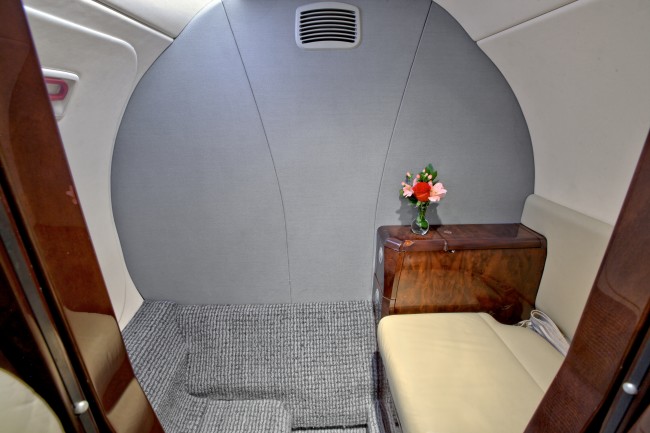 Contact John Hall at +1(317)858-6000 Ext. 2002, or via email jhall@jetav.com, for additional information and pricing.
The Preceding Preliminary Aircraft Presentation by Premier Jet Aviation, Inc. Is For Discussion Purposes Only, Is Subject To Verification By Purchaser, Is Subject To Change Without Notice, And Is Not To Be Considered A Representation Of This Aircraft. Interested Parties Should Rely Upon Their Own Inspection Of The Aircraft And Its Records.  Aircraft Is Offered Subject To Prior Sale Or Withdrawal From Market.