Registration: N4200K     
Serial Number: 560-0354
Year Built: 1996
This is the Citation Ultra, one of the most efficient business jets in the world, offering ample cabin space and baggage capacity along with low acquisition and operating costs.  The Ultra cruises at speeds up to 429 knots while comfortably operating at above the weather altitudes up to 45,000 feet.   The Ultra can take-off from runways as short as 3,200 feet at maximum gross weight and fly over 1,900 nautical miles non-stop.  The Citation Ultra represents one of the best transportation values in the business jet market today.
Total Time Airframe: 7917.6 Hours (as of 11 March 2016)
Engine Time Since Overhaul (2/11): 1089.6 Hours
Dallas Airmotive Airtight Warranty
Cescom
Two Corporate Owners Since New
WAAS and LPV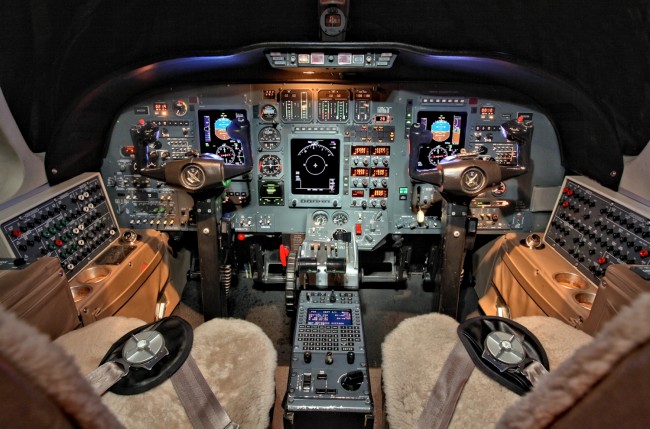 Avionics
Honeywell Primus 1000 Integrated Avionics System
Honeywell Primus 1000 3 Tube EFIS SYSTEM
Dual Collins VHF-22A Coms with 8.33 Spacing
Dual Collins VIR-32 Nav Receivers
Universal UNS-1ESPW FMS (New 2/11)
Universal LP/LPV Monitor (New 2/11)
Dual Collins DME-442
Collins ADF-462
Primus 650 Color Radar
WX1000 Stormscope
TCAS II with Change 7
Honeywell Mark VII EGPWS
Dual Honeywell MST-67A Mode S Transponders
ALT-55B Radio Altimeter
Dual Air Data Computers
Dual Davtron Digital Clocks
A200S Cockpit Voice Recorder
Artex C406-2 Three Frequency ELT
Safe Flight AOA Computer
Additional Features 
RVSM
EROS Oxygen Masks
Thrust Reversers
Pulse Light System
Concord Lead Acid Battery
64 Cubic Foot Oxygen System
Airshow 400
PBS-250 Cabin Briefer
Flightphone VI
Exterior Description
New 2/11 by Premier/West Star Aviation.  Allover Matterhorn White, with Vivid Red, Medium Grey, Black, Dawn Grey and Whisper Grey Accents.  Landing Gear finished in Medium Grey.
Interior Description
Refurbished 2/11 by Premier/West Star Aviation.  Seating for crew and up to nine passengers with a double club seating arrangement and a fully enclosed belted aft lavatory.  Finished in Mocha, Pebble and Moondrop Accents.