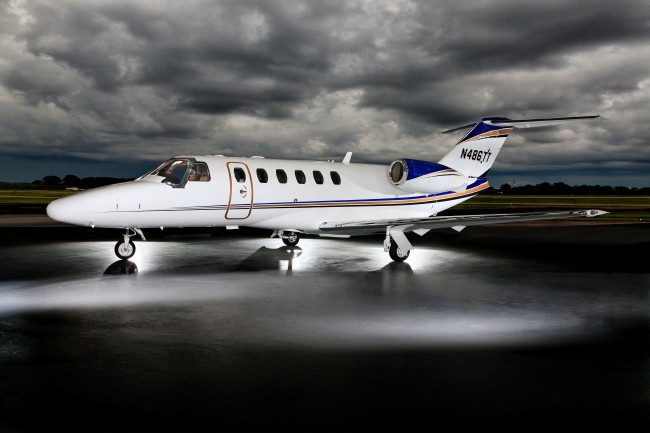 CLICK HERE TO DOWNLOAD SPECIFICATIONS
Combining an ergonomic yet stylish cabin, state-of-the-art technological advancements and exceptional performance, the CJ2+ takes all the things you've come to know and love about the CJ family and elevates them to entirely new levels. The Cessna engineers who created the CJ2+ did so with the benefit of insights from all the CJ owners, operators and pilots who have given us firsthand feedback over the years. Guidance from operators of existing CJs proved to be invaluable when it came time to build an even better one. On a typical mission, the CJ2+ will use about the same amount of fuel as the competitive turboprop while flying above-the-weather altitudes and arriving much earlier.  Factor in a seriously comfortable cabin environment, FADEC managed engines and a full fuel NBAA IFR range of over 1600 nautical miles and the CJ2+ emerges as one of the most compelling light jets in the category.
Total Time Airframe and Engines (8/31/14): 2457.6 hours/1917 Cycles  
Enrolled on TAP Elite Engine Program (fully funded)
ProParts and Cescom
No Damage History
418 Knot Cruise, 1,613 Nautical Mile Range
Avionics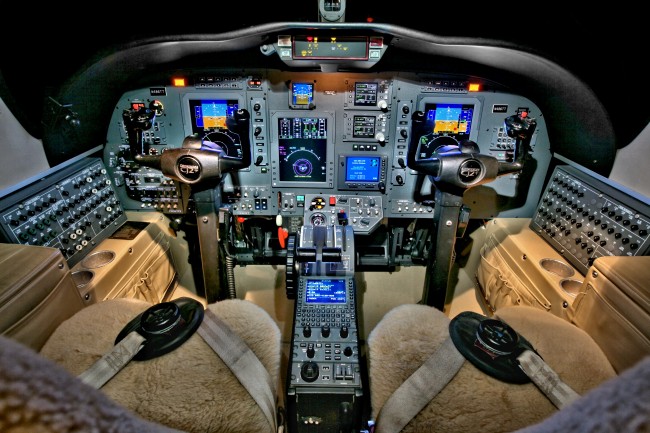 Certified for single-pilot operation, the CJ2+ is designed to put the latest tools at the pilot's command while minimizing actions and distractions.  All primary flight, navigation, engine and sensor data is consolidated on Active Matrix LCDs, including two large Primary Flight Displays and one central Multi-Function Display.  Integrated EFIS (Electronic Flight Information System) with moving map display, electronic charts and satellite broadcast graphical weather.  A Collins FMS and performance database automatically calculates and posts V speeds on each PFD. 
Fully Integrated Pro Line 21 Avionics System
EFIS:  3 Screen 8" x 10" PFD/MFD
IFIS-5000
Jeppesen Electronic Charts
FMS-3000 Flight Management System
GPS-4000A GPS Receiver
Garmin GPS-500 2nd FMS
Dual RTU-4200 Radio Tuning Units
NAV-4000 and NAV-4500 Navigation Receivers
DME-4000
Dual VHF-4000 Communication Transceivers with 8.33 kHz Spacing
Dual Collins Audio Control Panels
Provisions for HF Comm
Integrated Electronic Checklist
Dual TDR-94D Mode S Transponders with Enhanced Surveillance
Skywatch HP TCAS I
L-3 Communications TAWS 8000 Integrated with Pro Line 21 EFIS
L-3 Communications GH-3000 Electronic Standby Instrument System
Honeywell Mark VIII EGPWS
Collins WXR-800 Stabilized Color Radar System
XM Satellite Broadcast Weather  
Additional Features 
Aircell ST-3100 Satellite Telephone
Precise Flight Pulse Light System
Collins Maintenance Diagnostic Computer
L-3 Communications FA2100 Cockpit Voice Recorder
Cockpit Speaker Mute Switch
RH Forward Side Facing Seat
Quick Donning Oxygen Masks
Artex C406-N ELT
110 Volt AC Outlets (2)
Locking Fuel Caps
Exterior Description
New 2011.  Striking exterior with Overall Matterhorn White with Las Vegas Gold, Black Velvet and Medium Concord Blue accent striping.  Baggage interior finished in Milky Way.
Interior Description
New 2011.  Elegantly designed with Glen Eden 100% wool Cardigan Bay Ambience Carpet, Birchwood Leather passenger seats and Brown Rice lower sidewalls.
The spacious and modern environment of the CJ2+ cabin feels like it belongs in a jet costing millions more.  Luxurious furnishings and handcrafted case goods bath in the glow of indirect lighting and ample light from the large passenger windows.
The 8 Passenger interior features six-place center club seating with a single-place seat across from the entry door and a belted lavatory seat. Each of the large, luxurious seats track forward, aft and laterally and may recline all the way to horizontal in some configurations. Lockable external baggage compartments can be loaded with a massive 1,000 pounds and 65 cubic feet of capacity.