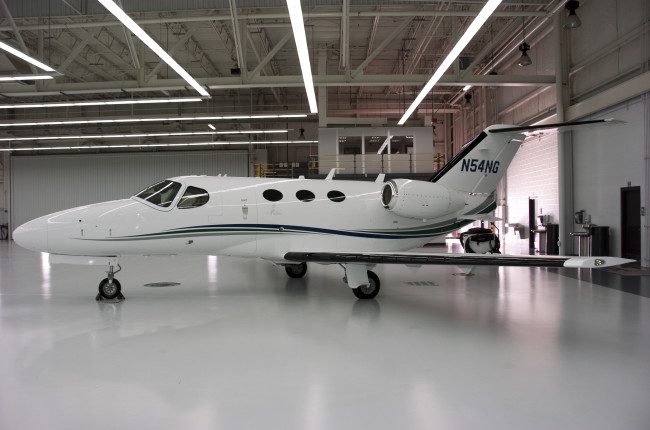 CLICK HERE TO DOWNLOAD SPECIFICATIONS
Get the light, agile aircraft with a heavy jet soul. The speed and range inspired performance of the Mustang will tackle the sky like only a jet can while delivering the efficiency of a lighter aircraft. The Mustang's epic aerodynamic design and advanced technology make for exceptional short-field performance with the ability to climb 41,000 feet in 27 minutes, fly at speeds up to 400 mph, and yield a full-fuel range of 1,150 nautical miles.
Total Time Airframe (9/29/14): 1654 hours/1323 Cycles
Total Time Left Engine (9/29/14): 1654 hours/1323 Cycles
Total Time Left Engine (9/29/14): 1527.8 hours/1231 Cycles
Engines Enrolled Citation PowerAdvantage+ Engine Program
ProParts, ProTech & Cescom
One U.S. Owner
Cessna Service Center maintained
Avionics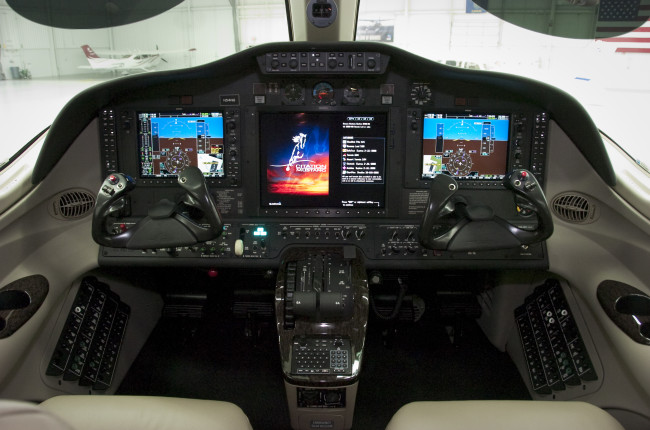 The Mustang's front office with Garmin G1000 integrated avionics delivers at-a-glance awareness that is comprehensive and intuitive. The three-screen Garmin G1000 avionics suite significantly decreases pilot workload and stress while consolidating all primary flight, navigation, engine, and sensor data onto large, easy-to-scan flat-panel displays. This innovative flight deck is standard on our single engine aircraft as well as all Caravan models, which keeps the learning curve low and the transition smooth for all Cessna pilots.
Fully Integrated Garmin G1000 System
Dual 10.4" Primary Flight Displays
15" Multi-Function Display
Dual Navigation Receivers
Dual VHF Communication Transceivers
Dual GPS Receivers
Class B EGPWS with Worldwide Terrain & Obstacle Database
Dual Air Data Computers
Dual AHRS
Honeywell KN-63
Three Axis IFCS
Dual Mode S GTX 33D Transponders with Antenna Diversity
Four Color Weather Avoidance Radar
Satellite Datalink XM Weather Transceiver – GDL 69A
Dual Digital Audio Control System
Additional Features 
Garmin GDL 69A Satellite Weather
Jeppesen Chart View
TAS Honeywell KTA 870 Traffic Avoidance System (TCAS I)
Wired for ADF
KHF-150 HF Provisions
SATCOM – Iridium Provisions
SVT-Synthetic Vision
XM Radio/Audio Input Panel
40 Cubic Feet Oxygen System
RVSM Compliant
Exterior Description
New 2009.  Striking exterior with Overall Snow White with Shamrock Green, Medium Gray and Royal Blue accent striping.
Interior Description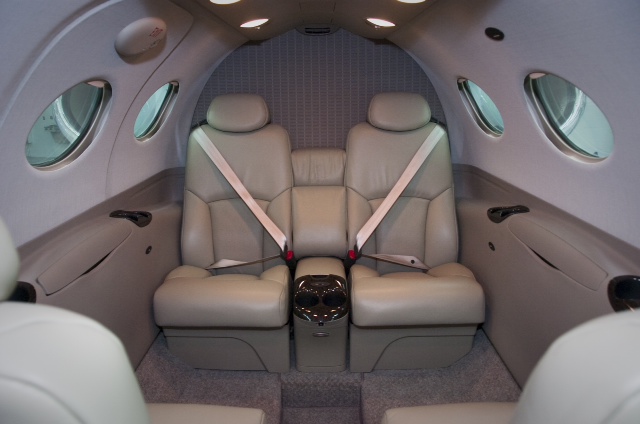 New 2009.  Interior Option – Bronze.  The cozy cabin interior of the Mustang offers the finest finishes and highest-quality materials for the top-rate luxury expected of a business jet. The Mustang's cabin quarters showcase six large oval windows providing spectacular views and abundant natural light.
Call Don Perry at +1(317)858-6000 Ext. 2016 for additional information and pricing.
The Preceding Preliminary Aircraft Presentation by Premier Jet Aviation, Inc. Is For Discussion Purposes Only, Is Subject To Verification By Purchaser, Is Subject To Change Without Notice, And Is Not To Be Considered A Representation Of This Aircraft. Interested Parties Should Rely Upon Their Own Inspection Of The Aircraft And Its Records.  Aircraft Is Offered Subject To Prior Sale Or Withdrawal From Market.